We have 3 cabins that sleep a max of 3 guests
Cabin (max 3 guests)
Description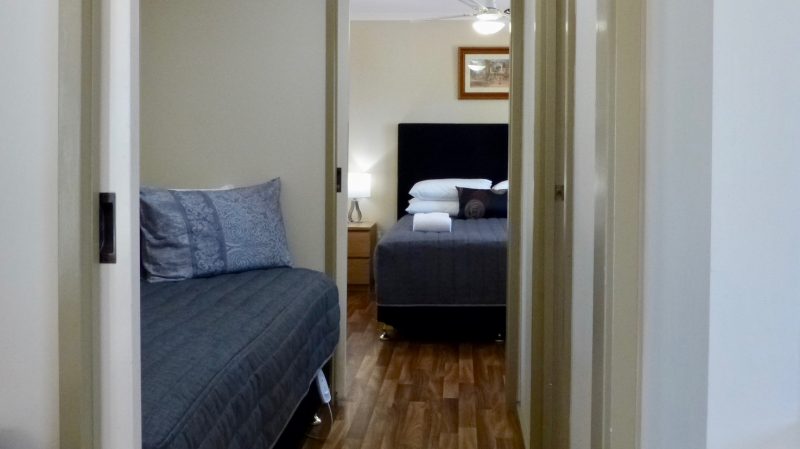 Watervale Retreat has four self catering cabins. These cabins sleeps a maximum of 3 guests with a queen bed in a separate master bedroom and a single bed in a walkthrough second bedroom.
All cabins have a carport, 32" colour television, sofa, dining table and chairs and seating on your own private balcony and easy access to our park safe BBQ in the upgraded BBQ area.
Other Features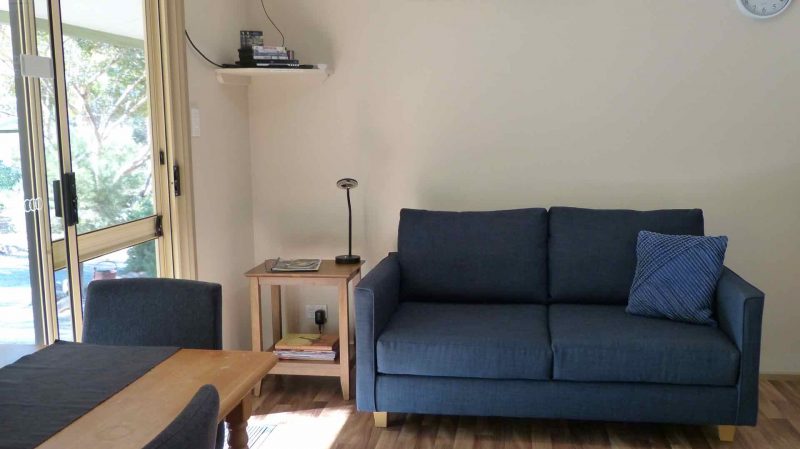 Private Carport and Balcony with seating
Continental Breakfast with Fresh Bread delivered daily
Complimentary Tea, Coffee & Hot Chocolate
Complimentary Toiletries
32" Samsung LED TV and DVD player with a selection of DVDs
Quiet Reverse Cycle Split System
Kitchenette with Filtered rainwater, Microwave & 2 Hob Induction Cooktop
Kitchenware including kettle, toaster, cutlery, crockery and cookware
For your convenience we also include salt, pepper and oil
Alarm clock with USB charge in every cabin
Iron and ironing board
This cabin has a separate master bedroom with queen bed.
Plus a recess provision with a single bed.

Cabin floor space is 32sqm,
Decking space is 16sqm
Total space is 48sqm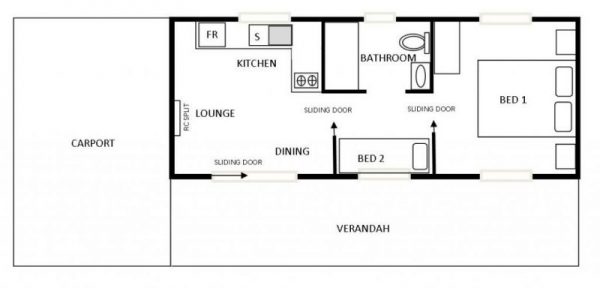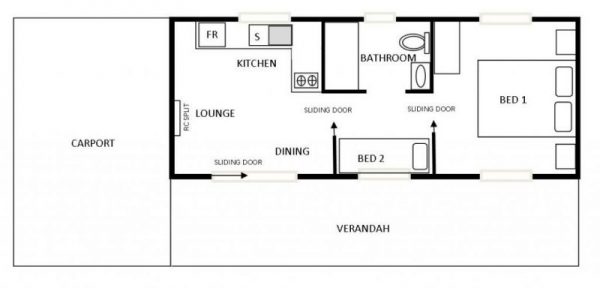 On a motorcycle trip we booked into 2 cabins at the retreat. David and Tracey were very friendly hosts. There was a carport to park bikes next to the cabin. We could have fed alpacas goats and emus at 6pm. We shopped in town and used the electric bbq while we enjoyed the scenery. A continental breakfast of fruit cereal and freshly baked bread delivered to each cabin ay 8.30am
The cottage was spotless and had everything you could want. The fresh hot bread in the morning was fantastic. Beds were very comfy and it was lovely and warm. Tracy was very welcoming and gave us some good tips for the area. We will certainly stay again when we come back
We were booked in here by a local ( literally only 8 klm up the road) and we cant speak highly enough of not only the retreat, but also the owners!!! To wake up in the morning to the sounds of new lambs, Emus and bird life, is one thing... but to have the proprietor bring us freshly baked bread and condiments in the morning was nothing short of amazing!!! I can not speak highly enough of this experience and we will be back!!!!
Very quiet and relaxing. Tracey and David were lovely hosts and our fresh loaf of warm bread every morning and a chat with them was great. They were also helpful with knowledge of the area and things to do.
Brilliant location for the Clare Valley and Riesling Trail. Cabins are cosy and super clean. Loved feeding the animals. David and Tracey were super helpful but unobtrusive. Can recommend the Watervale Pub and General Store which we walked to.Loved being able to see the stars in the night sky.
Cabin was spotless. Fantastic location. The perfect place to wind down after a day of driving. Would love to have spent more time there.
We were warmly greeted on our arrival. There was ample information provided, including dining options & wineries to visit in the local area. The cabin was spotlessly clean, cosy & comfortable. We loved the freshly-baked loaf of bread delivered to our door on our first morning. Wonderful hospitality!
A perfect quiet spot at Watervale, very close to Riesling trail and wineries. The place is spotless clean, you can smell the bed sheet & towel are clean and fresh. A lovely touch where freshly baked warm bread is provided for breakfast along with other continental brekkie supplies. There are four individual cabins in the area and would be fun to book the whole place for small families or friends gathering. Definitely recommend this place. Airbnb Review
Tracey and David were fantastic hosts! The cabin was spotless and very comfortable, and the location is just amazing. The animals gives the place a lovely extra touch, and we would recommend the bacon and egg breakfast, especially on the home-made bread delivered warm in the morning!! We can't wait to go back!!
Cabin Availability
Cabin Availability
No availability for your dates?